Weightlifter Lasha Talakhadze (+109KG) Scores Three World Records at 2020 Olympic Games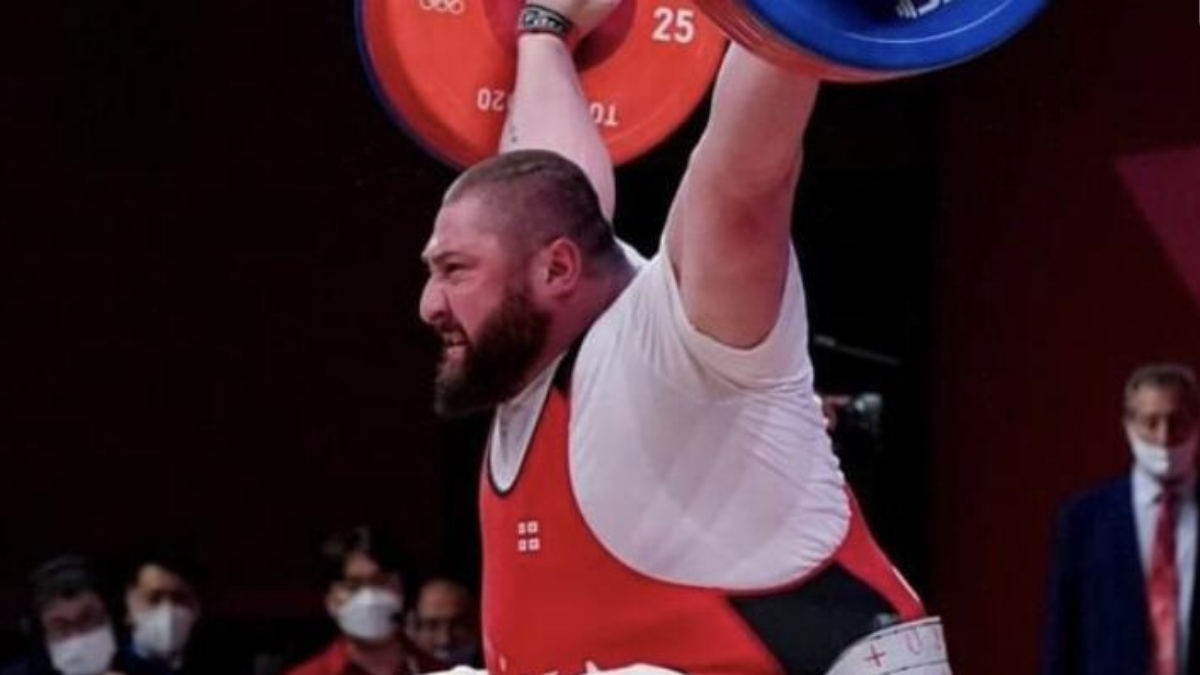 On August 4, 2021, at the final weightlifting event of the 2020 Olympic Games, Georgian weightlifter Lasha Talakhadze set a slew of new records in the Men's +109-kilogram category. By lifting a combined total of 488 kilograms (1075.8 pounds) via a 223-kilogram (491.6-pound) snatch and 265-kilogram (584.2-pound) clean & jerk, the super-heavyweight phenomenon won his second Olympic gold medal after placing first in Rio five years prior. He is 27 years old.
Lasha Talakhadze Tokyo 2020 Lifts
Snatch — 208/215/223 kilograms (491.6 pounds) (Olympic Record, World Record)
Clean & Jerk — 245/255/265 kilograms (584.2 pounds) (Olympic Record, World Record)
Total — 488 kilograms (1075.8 pounds) (Olympic Record, World Record)
Talakhadze's performance at his second Olympic Games strengthened the already strong case for him being the greatest weightlifter alive. Since his first gold medal at the World Weightlifting Championships (WWC) in 2015, he has flown to the top of the podium at every international event he has attended.
No athlete in recent years has made a home of their weight class more than Talakhadze. The Georgian has spent the better part of the last six years evicting the tenants who had previously enjoyed a life of luxury at the top of the super-heavyweight division, such as Iran's tenured Behdad Salimi and multi-world-record holder Alexsey Lovchev of Russia.
[Related: Meet Team USA Olympic Weightlifter Caine Wilkes (+109KG)]
With the possible exception of Armenia's Gor Minasyan, who has logged multiple snatches above 210 kilograms internationally, no one has seemingly presented a threat to Talakhadze's reign in weightlifting.
Following a reorganization of weight categories in 2018, many of the prominent contemporary athletes — China's Shi Zhiyong, Neisi Dajomes of Ecuador, among others — have displayed incredibly impressive feats of strength in the new weight classes. However, their lifts are juxtaposed against the record holders of times past, who have often lifted more while weighing slightly less.
This technicality is not a factor when considering Talakhadze's career. Not only has he lifted more weight than anyone else since 2018, but he has also, in literal terms, lifted more weight than any human being to ever compete in Olympic weightlifting. Outside of competition, Lasha has been recorded snatching 225 kilograms and clean-and-jerking 270— both the heaviest lifts caught on film.
Lasha Talakhadze International Wins
European Junior Championships — 1 (2011)
European Championships — 5 (2016, 2017, 2018, 2019, 2021)
Junior World Championships — 1 (2013)
World Championships — 4 (2015, 2017, 2018, 2019)
The lone blemish on Talakhadze's legendary career is a disqualification from the 2013 European Junior Championships following a positive doping test. He served a two-year ban for the drug stanozolol.
[Related: Romanian Weightlifting Federation Suspended Ahead of 2020 Olympic Games]
Lasha Talakhadze Individual Records
Snatch — 9
Clean & Jerk — 4
Total — 8
It is feasible to assume that Talakhadze might take it easy on the competition platform with no one quite approaching his level in the last five years. However, despite being the final athlete to appear in every meet he attends, and with no one to battle against on a lift-by-lift basis, he has still managed to consistently improve upon his own best results.
The Future of Weightlifting
With his resounding successes in Tokyo now added to his lifting belt, along with another Olympic gold around his neck, Talakhadze is expected to dominate the Men's super-heavyweight division for the foreseeable future.
He seems to show no sign of slowing down on his journey towards the mythical, as-of-yet unachieved 500-kilogram (1100 pound) total. With three years until the Paris Olympics in 2024, and weightlifting confirmed as a competitive event, fans and competitors alike will keep a watchful eye on the Georgian's trajectory throughout the next qualification cycle.
Featured Image: Stephen Galvan for IWF
View original article here Source